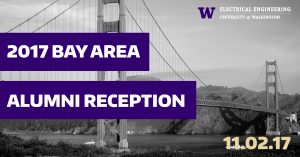 You're Invited!
Please join the UW Department of Electrical Engineering on November 2nd for our third annual Bay Area Alumni Reception. Because the previous years' events were met with resounding success, the department is pleased to host another reception for our alums in the Bay Area. To view photos from last year's event, please look at our online album here.
Hors d'oeuvres and refreshments (beer, wine and non-alcoholic beverages) will be provided.
Contact: events@ee.washington.edu
When & Where
Nov. 2, 2017
6–8:30 p.m.
1401 N. Shoreline Blvd.; Mountain View, CA 94043
RSVP
Please RSVP for the event by October 23, 2017. RSVP here.
Faculty in Attendance
Radha Poovendran

Professsor and Chair
Security, biosystems and machine learning.

Matt Reynolds

Associate Professor; Associate Chair for Research and Entrepreneurship
RFID, ultra-low power sensing and computation, energy harvesting, wireless power transfer (WPT) and smart materials, surfaces and spaces.

Payman Arabshahi

Associate Professor; UW EE Director of Advancement
Underwater and space communications, wireless networks, power system optimization, smart grid, data mining and search, and signal processing.

Blake Hannaford

Professsor
Control theory, biorobotics, telerobotic surgery, functional electrical stimulation, neural system control and haptic rendering.

Chris Rudell

Associate Professsor
RF, mm-Wave, Analog and Mixed-Signal Systems applied to biomedical devices including neural interfaces, communication systems, and imaging technology.

Josh Smith

Professsor
Sensor systems, wireless power, RF and other power harvesting, sensing for robotics and ubiquitous computing.

John Sahr

Professsor
Ionospheric physics; electrojet turbulence; passive bistatic radar; radar remote sensing; radar waveform design; radar interferometry; and statistical signal processing.
Parking
There will complimentary parking for all guests.
6:00pm–8:30pm, Thu, Nov 2nd, 2017