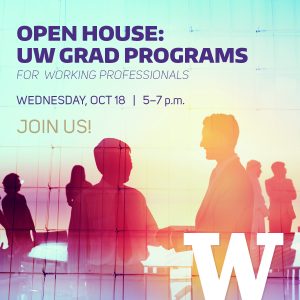 Interested in taking your electrical engineering career to the next level — or moving your career in the direction of electrical engineering? Our Professional Master's Program (PMP) may be just what you need! Visit the UW Grad Programs for Professionals Open House to learn more about UW EE's master's program for working professional and to chat with our PMP adviser.
When & Where
Wednesday, Oct. 18, 2017
5–7 p.m.
RSVP
Please RSVP for the open house with Professional & Continuing Education.
5:00pm–7:00pm, Wed, Oct 18th, 2017