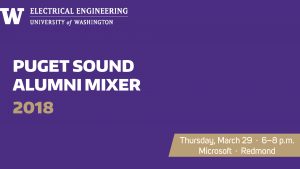 When & Where
Thursday, March 29, 2018
6–8 p.m.
Please RSVP by March 23 using the form below.
About the Event
UW EE is excited to continue the tradition of bringing our alumni together. For our fourth annual Puget Sound Alumni Mixer we're proud to partner with Microsoft. Rico Malvar, Microsoft chief scientist and distinguished engineer and UW EE affiliate professor, is our co-host as we convene in Redmond. Don't miss this opportunity to network with fellow alums, hear about the latest research in the department and catch up with some of your favorite faculty over hors d'oeuvres and beverages. Space is limited and registration will close when capacity has been reached — we encourage you to RSVP early.
Co-Hosts
Radha Poovendran

UW EE Professor and Chair
Research areas: Security, biosystems and machine learning.

Rico Malvar

UW EE Affiliate Professor
Faculty Guests
Payman Arabshahi

Associate Professor
Research areas: Wireless networks, power system optimization; smart grid; signal processing.

John Sahr

Professor
Research areas: Radar remote sensing; radar waveform design; statistical signal processing.

Maryam Fazel

Associate Professor
Research areas: Optimization theory and algorithms; machine learning, signal processing, and system identification.

Les Atlas

Professor
Research areas: Signal processing for dynamical systems; speech and auditory sciences.
RSVP
If the RSVP form widget does not load, please visit this page to register.
6:00pm–8:00pm, Thu, Mar 29th, 2018