The highlight of every academic year is UW EE's Graduation ceremony — we celebrate the years of hard work our students have put in, and we celebrate their incredibly bright futures.  We invite all family and friends of graduating students to join us for this transition moment from student to engineer.
Graduation 2018
When & Where
Wednesday, June 6, 2018

6 p.m. — Doors open
7 p.m. — Procession begins
9 p.m. — Ceremony ends

Hec Edmundson Pavilion — Campus map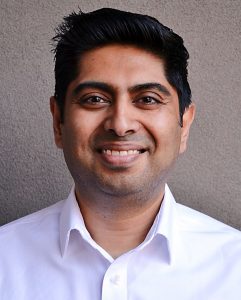 Speaker
We are delighted to announce our 2018 speaker for Graduation — Sal Dhanani (BSEE '96).
Sal Dhanani is a co-founder of Telenav and brings years of experience in product marketing, product management, business strategy and operations within the telecom industry. Prior to Telenav, Sal worked with the McKenna Group, a leading strategy-consulting firm, where he developed market entry, product launch and expansion strategies for various start-ups, telecom companies and telecom infrastructure providers. Before joining the McKenna Group, Sal was responsible for product development and management at Schlumberger Ltd., Test and Transactions Group.
Sal completed coursework through Stanford University's IEEM program and holds a Bachelor of Science in Electrical Engineering from the University of Washington.
Registration
Registration for the UW EE Graduation ceremony is open until 11:45 p.m. Monday, May 28.
UW Commencement
Commencement is a separate event from the department's graduation ceremony.  UW Commencement is June 9, 2018, at Husky Stadium.  Commencement registration is open May 2–20.
To get your cap and gown, you must register for UW Commencement. To arrange parking for your family for UW EE's Graduation ceremony, you must work with Transportation Services through the Commencement website.
Graduation Checklist
The UW Commencement website has an excellent checklist to use as you prepare for your graduation.
Attending UW EE Graduation
Students
Attire — Cap and gown ("regalia") are strongly recommended; if you choose not to wear regalia, business attire (buttoned shirts, shoes, et cetera) is required.
Checking in — You will check in at the Hec Ed loading dock starting at 6 p.m.  Once you have checked in, you cannot leave the venue!  Plan accordingly.
Families & Friends
Tickets — Are not required for UW EE Graduation.
Photographs — Are welcome! We do ask that you remain in your seats and not approach the stage to take pictures, as we will have a professional photographer. The professional pictures will be available on the photographer's website following the graduation ceremony.
Parking
Parking must be arranged via the UW Commencement website.
Other Venue Details
Disability Services — There will be volunteers/staff at the front doors who will provide directions and assist your guests with disability seating. Hec Ed is an arena, so there are plenty of wheelchair accessible seating areas.
Strollers — Guests should ask volunteers/staff for directions to the appropriate seating area.
Balloons — Balloons are not allowed in Hec Ed.